Current Tire Rebates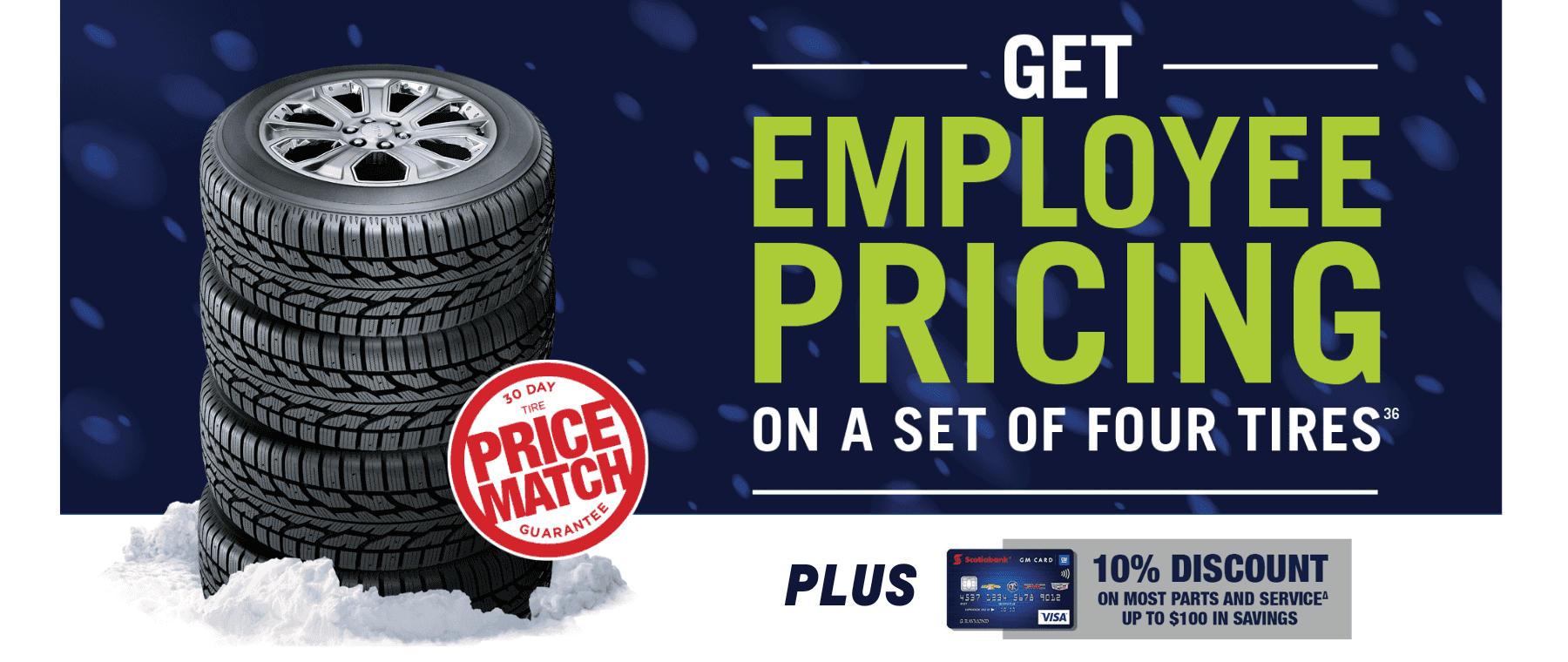 You pay what we pay on tires! Plus save even more when you take advantage of GM Instant Rebates & mail-in rebates from top brands.
And get up to $100 in additional savings when you use your Scotiabank GM Visa card.
Shop our current tire rebates today!
We are currently updating our monthly offers. Please check back shortly for updates.
In the meantime, here are some links that you might find helpful:
The GM Card $100 discount is stackable with the $40-$70 instant Manufacturer rebates. Manufacturer mail-in rebates are not stackable with Manufacturer instant rebates.
For full details on our privacy policy; further information about those with whom your information is shared; or to be removed from future marketing communications, please contact us at 1-800-GM-DRIVE[#] or through our website at www.gmcanada.com. Eligible Cardholders of a Scotiabank® GM Visa® Card are eligible for one (1) 10% discount offer on the purchase of select GM parts & service or GM accessories at participating GM dealerships in Canada, up to a maximum total purchase of $1,000 (i.e. up to $100 deducted from the final selling price before taxes) on a single customer pay repair order, per eligible VIN, per eligible Cardholder, per day, when using their Scotiabank® GM Visa® Card to make the purchase. Offer valid only on eligible purchase(s) (less any credits, refunds or returns) charged to the Cardholder's Scotiabank® GM Visa® Card account from January 3, 2020 to January 4, 2021 at participating Chevrolet, Buick, GMC and Cadillac dealerships in Canada and will be deducted from the final selling price before taxes. The maximum total purchase of $1,000 (before taxes) can be obtained by way of purchase of one or more eligible parts & service or eligible accessories; however, Cardholders cannot divide the cost of a single or multiple eligible parts & service or eligible accessories amongst multiple customer pay repair orders or Scotiabank GM Visa cards when the purchase price exceeds $1,000. Only GM Genuine Parts, ACDelco Parts, GM National Account tires and Accessories with a GM Part Number, including labour costs for related parts or accessories installation, are eligible for this offer. Integrated Business Partner (IBP) Accessories with a GM Part Number are also eligible, including related installation labour costs. Labour only services and Limited Personalization Option (LPO) accessories are excluded from this offer. Installation of select parts or ACO GM Accessories at the dealership is not required. Only vehicle(s) originally sold in Canada intended or used for personal use are eligible for this Offer. Offer may not be redeemed for cash and may not be combined with certain other consumer incentives available on Chevrolet, Buick, GMC and Cadillac vehicles and/or their associated parts. Conditions and limitations apply, see your participating dealer for details. This offer is non-transferable. This offer may be changed, cancelled or extended at any time without notice. The Bank of Nova Scotia is not responsible for any products or services purchased at GM Canada dealerships under this offer. Dealer may sell for less TIRE 30-DAY PRICE MATCH GUARANTEE: Your local dealer will match the competition's prices. If you purchase one of the aftermarket tire brands listed below and later find a better price on a qualifying brand within 30 days of the purchase, we'll refund the difference. Tire Brands: BFGOODRICH, BRIDGESTONE, CONTINENTAL, DUNLOP, FIRESTONE, GENERAL, GOODYEAR, HANKOOK, KELLY, MICHELIN, PIRELLI, UNIROYAL, KUMHO. The price match applies to the brands listed above. Tire brands not carried by your dealer will not be guaranteed for a price match. Competitive Prices: The competitive price you find must be in a valid ad, written estimate or Internet quote for identical, new tires. The tires must be an exact match in brand, tire line, size, load rating and speed rating to be eligible for the price match guarantee. All competitive quotes (including int quotes) must come from a local competing tire retailer and installer (with a physical location within 100km of your participating GM retailer. The competitive price must be valid within 30 days of your purchase of any of the tire brands listed above. Service and Installation: The price match guarantee is only valid on the tire price and does not include installation/labour. Offer available to retail customers only at participating Canadian Chevrolet, Buick, GMC and Cadillac dealers. Offer valid from January 1, 2020 to December 31, 2020. GM Canada reserves the right to cancel, modify or amend the offer without notice. Conditions and limitations apply. May not be combined with other offers and programs. ® Registered trademarks of The Bank of Nova Scotia.* Visa Int./Licensed User.®* Registered trademark of General Motors LLC. The Bank of Nova Scotia is an authorized user of General Motors LLC marks.